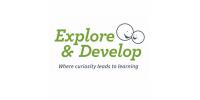 Early Childhood Preschool Educator
As a passionate, experienced early childhood educator with previous experience working directly with children who have additional needs (low level); you will be focused on designing and implementing, an inclusive & innovative pedagogy alongside our qualified team of collaborative and experienced preschool co-educators.
We are working directly with external specialists, KU Inclusion Support and have developed a specialised Innovative Solutions program for our Early Childhood Educators to directly support them in their role through mentoring and professional development to successfully implement an inclusive and innovative preschool program for all children.
The successful applicant will share views around children as capable and competent learners and strive to design and implement high-quality educational programs and experiences for all children in the preschool room.
'School readiness' at Explore & Develop is not an isolated program, it is a thoughtful process that happens over time. At Explore & Develop we focus on a holistic approach (wholechild) to learning where learning begins in the infant rooms and is embedded in everything we do. Explore & Develop supports Neuroscientific research that confirms the development of the brain is most rapid during the early years. These early years are a crucial period where children develop the foundations of their social, emotional, physical and intellectual wellbeing for life.
Our qualified educators plan and provide programs that optimise learning and development across the five Learning Outcomes of Australia's National Early Years Learning Framework, supporting all children to make progress and lay the foundations for their transition to school and lifelong learning.
In return for your commitment and dedication, you will enjoy working as part of a passionate, committed, supportive and highly driven team of educators, known for the delivery of high-quality education and care for children. You will also enjoy ongoing opportunities for professional development alongside your peers, the wider Explore & Develop group and the early childhood sector. You will be supported by a skilled and experienced management team every step of the way.
WHY EXPLORE & DEVELOP FRESHWATER?
When you begin or expand your career with Explore & Develop, you know that you are joining a team that values and appreciates your dedication and contribution to the team. Our early learning services are inclusive and unique environments.
We recognise the importance of supporting our teams through career growth as their growing knowledge and innovation in our service directly impacts the high-quality learning environments, experiences and interactions that contribute to children developing fundamental skills and knowledge to support them on their lifelong learning journey.
Discover a community of early learning practitioners who are innovative and professional in their practice and are enhancing children's wellbeing through respectful partnerships with children, families, co-educators and the wider community to enrich young lives every day.
'Our team share a commitment to continuous learning. We strive to develop and enact new ideas, experiences and pedagogies based on current best practice in Early Childhood Education and are proactive and critical thinkers and we provide an environment that supports children to become innovative thinkers' – Explore & Develop Freshwater Philosophy
At Explore & Develop Freshwater, we recognise that attitudes, skills and knowledge developed in a child's early years provide a basis for that child's learning in later years. We believe that to develop children's highest potential, we need to provide a strong play-based curriculum with an environment that promotes positive attitudes to learning. We do this in partnership with families, children, our passionate team of educators and through the strong connections we have formed within our local community.
What you'll need to succeed:
Be a dedicated, professional and innovative Teacher / Educator (ACECQA Approved) who is seeking to enhance and extend their skills and practice.
Current, approved Working with Children Check.
Current First Aid, Asthma & Anaphylaxis Certificate/s (ACECQA approved)
Experience working with children with low-level additional / individual needs (Speech / Social Emotional)
Passionate about the early years, with a keen interest in educating and caring for children of the 0–5-year age group.
The ability to work collaboratively with other educators. Strong communication skills and the ability to work with others
Commitment to inclusive early childhood practice and social justice
Ability to form and maintain professional relationships with families, children and other educators.
Enthusiastic, motivated, professional, organised, flexible and reliable.
What you'll get in return:
Above Award Wages + Professional Growth Opportunities
Higher than required staffing ratios (we employ an extra staff member across all of our classrooms as well as float staff for curriculum development)
Beautiful resources & learning environments
Ability to connect and create strong community partnerships
Support to grow and further develop your practice
A supportive management team with extensive experience within the early childhood sector
Access to the Employee Assistance Program to access confidential, service funded, counselling sessions for personal or work-related concerns.
Professional development opportunities designed specifically to help you achieve your individual goals, access to the Explore & Develop Annual Conference featuring national and international speakers, Learning Hub with an abundance of resources at your fingertips.
Be a part of a highly experienced, EXCEEDING service with a focus on 'Leadership and practice innovation'
Handpicked, Highly Qualified & Experienced Team of Professional
Opportunities to connect with the community in a rich and meaningful way through our 'beyond the gate' curriculum
Get to know us:
Website: www.exploreanddevelop.com.au/explore-develop-freshwater Facebook: www.facebook.com/exploreanddevelopfreshwater
Instagram: www.instagram.com/exploreanddevelopfreshwater
Family Connections: https://youtu.be/s5l9NVb9Ho0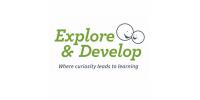 About Explore & Develop Freshwater
Explore & Develop Freshwater is seeking to find an innovative, dedicated, Early Childhood Educator to join our Northern Beaches team - Recently rated EXCEEDING in every standard across all 7 Quality Areas!
Family Connections: https://youtu.be/s5l9NVb9Ho0
Current Opportunities:
https://mailchi.mp/exploreanddevelop/93tb85w5t9-4889638
Nursery Practitioner: https://www.childcarejobs.com.au/job/19842/early-childhood-practitioner-nursery-room-freshwater-sydney
Preschool Teacher: https://www.childcarejobs.com.au/job/19843/early-childhood-teacher-preschool-freshwater-sydney